Apparently, LiveJournal has no problem with default userpic icons that depict breasts as below, because despite the unapologeticly abundant display of flesh for no other reason than titillating the male gaze, there is an all-important level of
decency
maintained by strategically placed artificial flowers:
Hey, it's just a girl looking glamorous and sexy, right? Nothing wrong with letting schoolkids see that now, is there?
But if you want a default userpic that depicts breasts like this:
Or , heaven forfend, like this:
Then apparently you are a sick puppy, as children must be protected from the evil concept of
NIPPLES FEEDING BABIES
(the horror!) at all costs. Because, you know,
THEY'RE NIPPLES
!
Apparently, a LiveJournal user was asked to change his default userpic icon from one that showed naked breasts. He then retaliated, in a self-confessed act of trollishness, by reporting any default userpic icon he could find of a breastfeeding mother. LiveJournal responded by asking all users with breastfeeding images showing areolae as their default icon to change them to non-default, because nipples feeding babies are just as indecent as naked genitalia.
"LiveJournal has always placed restrictions on default userpics, as the default userpic is visible in many public areas throughout the site, including the Directory, the Schools Directory, and

the profile page."




[...]




"Any usericon in which unclothed breasts or genitalia are visible is




therefore inappropriate for use as a default icon, and when such icons




are reported to the Abuse team, the user is asked to make that icon




non-default.





If an icon depicting the act of breastfeeding does not also depict a




clearly visible unclothed breast in which the areola or nipple is




visible, it does not fall into this category."


(email from LJ to an objector quoted in misc.kids.breastfeeding)
There's more details on the story and discussion on the
LJ forum boob_nazis
.
As one contributor to misc.kids.breastfeeding argues
,
"...breasts exist primarily for feeding human young, and secondarily as a sensual body part. In much the same way, feet are designed for walking - but that doesn't stop the foot-fetishists. Are you going to ban photos of feet too?"



But should we be so hard on LJ? After all, everybody knows Jesus was so holy he never looked at a nipple in his life: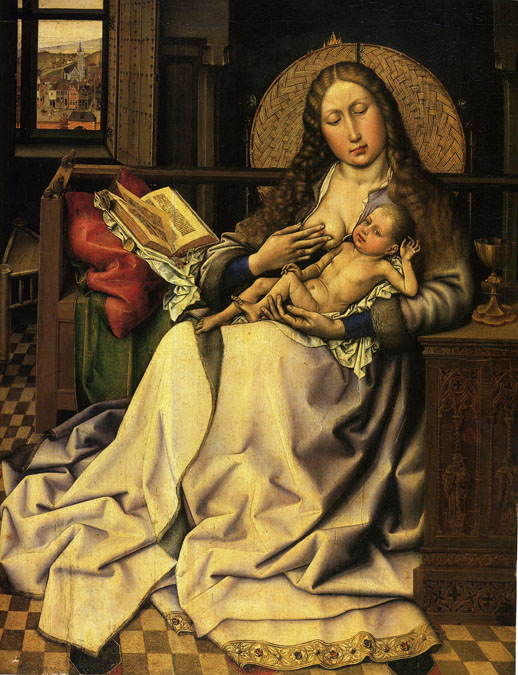 You have no idea how long it took to find a breastfeeding image that actually showed nipples, that's how bizarrely inverted our Western values are on portraying the breast as it performs its natural biological functions. It took even longer to find a shot of Jordan
aka
Katie Price that showed cleavage without nipples.
You know how long it took me to find an old-masters-painting image of a nursing Madonna with nipples? First page of search results.
Hat-tip to Lara.
EDIT: argh - forgot the activism link - promom.org has 3-minute-activist spots, and
objecting to this LJ absurdity is one of them
.